Directions Credit Union Donates Summer Reading Prize Books to Library
Posted June 14, 2022
The Monroe County Library System is pleased to recognize a generous $3,000 donation from Directions Credit Union to purchase summer reading prize books.
"At Directions, our mission to improve the quality of life for our entire community aligns seamlessly with the Monroe County Library System's goals. We are excited to support educational opportunities, like summer reading programs, in the regions we serve," said Barry Shaner, President and CEO Directions Credit Union.
The significant contribution from Directions Credit Union was used to purchase approximately 1,200 books which will be given away to children who complete a summer reading log. Library Director, Nancy Bellaire said, "We are delighted to partner with Directions Credit Union for the second consecutive year. The value of putting quality books in the hands of children is priceless, and the continued support of our community partners is greatly appreciated."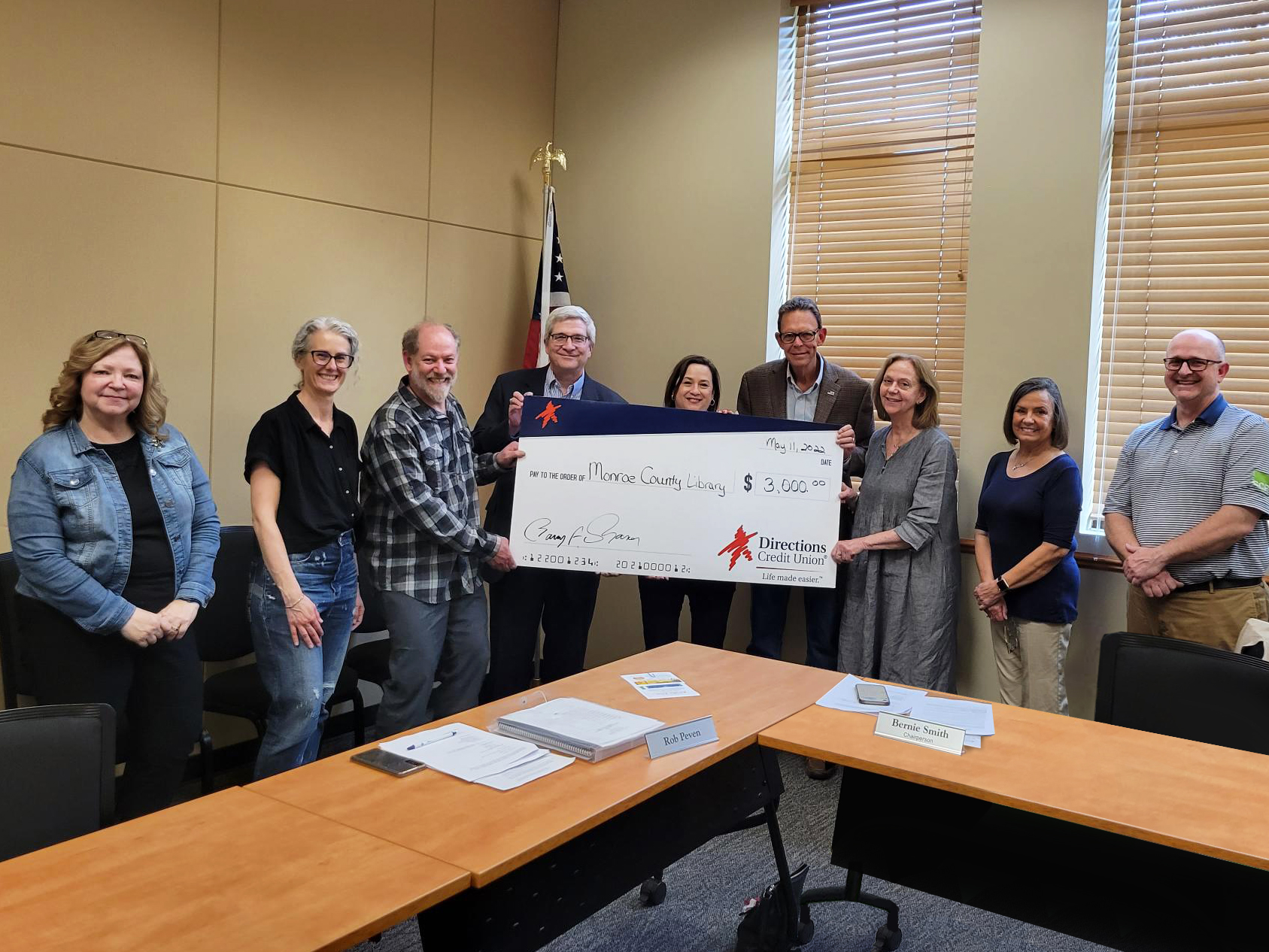 Photo of Directions Credit Union representatives presenting a donation check to the MCLS Board of Trustees.
Taken at the Bedford Branch Library on May 11, 2022.
From left to right:
Nancy Bellaire (MCLS Director), Beth LaPensee (MCLS Trustee), Rob Peven (MCLS Trustee), Barry Shaner (President and CEO Directions Credit Union), Brenda Covrett (Directions Credit Union Marketing and Community Outreach), Raymond Leighton (Directions Credit Union Board Member), Catharine Calder (MCLS Board Vice Chair), Bernie Smith (MCLS Board Chair), Michael Grodi (MCLS Board Secretary)
Beginning June 21, children across Monroe County are invited to participate in the library's 2022 summer reading program "Oceans of Possibilities". These interactive programs promote literacy, encourage socialization, and help counter the summer slide. Weekly events include stories, art experiences, and STEM activities.
Additionally, showing a completed MCLS reading log at Directions Credit Union will result in a $5.00 deposit in your child's Directions Youth Savings account.  Directions is a community-based organization dedicated to serving the financial needs of its members.  Membership is open to those who live, work, worship, attend school, or volunteer in Monroe or Lenawee County in Michigan and several counties in Ohio.  Directions Credit Union has two branches in southeast Michigan at 15470 S. Telegraph Road in Monroe and 3558 West Sterns Road in Lambertville.