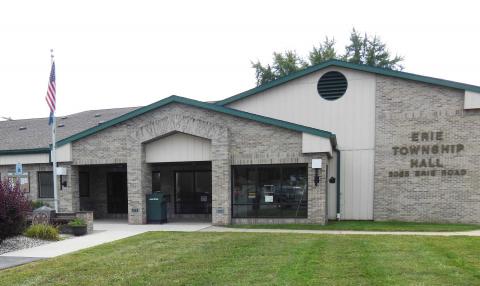 Shannen McMahon, Community Librarian
Erie Branch Library
2065 Erie Rd.
Erie, MI 48133-9757
Phone: (734) 848-4420
Fax: (734) 317-1420
Sunday: Closed
Monday: 1:00 pm – 7:00 pm
Tuesday: 1:00 pm – 5:00 pm
Wednesday: 10:00 am – 5:00 pm
Thursday: 1:00 pm – 5:00 pm
Friday: 1:00 pm – 5:00 pm
Saturday: Closed
Branch hours may be affected by holiday closings. Please see our Holiday Closing page for more information.
Erie Branch Library History
In 1935 the first library of Erie, Michigan was housed in a store on U.S. 25.  In 1936 it was moved to the old township hall, local upstairs, 2060 Manhattan Boulevard.  Then in August of that year it was moved to a room in the Erie Volunteer Fire Department.  It wasn't until 1971 that the hours of business were increased from 15 hours per week to 30 hours per week.  In 1972 Erie Township had to expand their office space.  The library was moved to the basement of the Erie Township Hall, where it stayed until the construction of the new township hall/library in 1996.  This was a significant move for the library to above ground, to accommodate young and old alike. 
Erie Branch Library Advisory Board
These Board members are appointed by the Erie Township Board.  When issues arise at the library that needs financial support of the Township this Board meets at the library to plan and address the issues. Recent Library Advisory Board activity was the overseeing and installation of the South entrance to the library.
Board Members
Lola Santure 
Edward Cousino
Carol Sawasky
Technology Available
Fax Machine
Free Wireless Internet
2 public computers
1 library online catalog computer
Photocopy machine – 10 cents per copy
Erie Branch Events