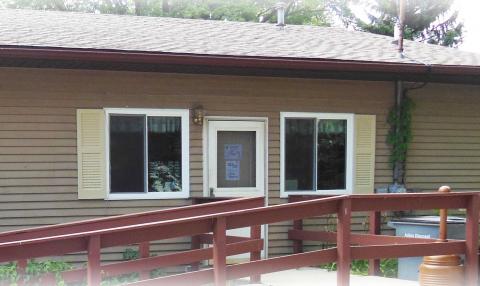 Shannen McMahon, Community Librarian
Rasey Memorial Branch Library
4349 Oak, Box 416
Luna Pier, MI 48157-4572
Phone: (734) 848-4572
Fax: (734) 317-1572
Sunday: Closed
Monday: 10:00 am – 1:00 pm
Tuesday: 2:00 pm – 7:00 pm
Wednesday: 2:00 pm – 7:00 pm
Thursday: 10:00 am – 1:00 pm
Friday: 1:00 pm – 5:00 pm
Saturday: 10:00 am – 1:00 pm
Branch hours may be affected by holiday closings. Please see our Holiday Closing page for more information.
Rasey Memorial Branch Library History
"It was done by the grace of God and the vision, faith, and necessities of so many people"
Mrs. Geo R. Navarre 
Former Monroe County Librarian
The Luna Pier branch library first opened its doors on December 16, 1935. The librarian at the time was Miss Tyllae LiBey. With a total of 163 books on the shelf, mostly donated by various people throughout the county, the library was ready to serve the school children of Luna Pier. The library was located in one room of the two-story Luna Pier Elementary School.
In 1954, Mrs. Lyla Biswurm, librarian, announced that the library would move from the second floor of the old school building to the ground floor of the new addition. This change brought about the notion of providing a "public" domain for both adults and children to utilize.
In July of 1965, an old summer home, owned by the late Mr. and Mrs. James M. Rasey was donated by their daughter, Eva G. Rasey, in their memory to the people of the city of Luna Pier. The building was remodeled to suit patron needs and meet library standards. On April 25, 1966, the newly remodeled building was opened as the Rasey Memorial Library, a branch of the Monroe County Library System. Since the donation by the Rasey family, the library has been enlarged, remodeled, and rededicated. The rededication ceremony took place in October 1981. The acting librarian, Mrs. Susan Koepke, continued to improve the services as well as the collection in the library.
Today, the library provides numerous fiction and nonfiction materials, children's and juvenile literature, video and audio cassettes, and a large selection of reference materials and magazines titles. The library offers internet connection capabilities, the ability to reserve materials from various libraries in and out of Monroe County, and opportunities for patrons to attend library programs.  Monthly programs are scheduled as well. 
Rasey Memorial Branch Events