The Monroe County Library System strives to maintain a well-rounded and accessible Genealogy Collection at the Ellis Library and Reference Center.  Focusing on the families of Monroe County, Michigan, materials extend to coverage of surrounding counties (including those in Northwest Ohio) and their ties to Monroe.  Other fields of concentration follow family lines to French Canada, New England and the Atlantic states, and areas near Eastern Tennessee.  While the focus is on Monroe County, the collection includes resources from over 30 other states and Canada.
The Genealogy Collection includes print, electronic and microfilm resources.  These include:
Birth, Marriage and Death Records

Church Records

Cemetery Records

Census Transcriptions

City Directories

Probate Records

Land Records & Plat Maps

Naturalization Records

Passenger Lists & Ship Identification

Family Histories

Oral Histories

County

Township & Village Histories

Surnames

Heraldry
Other Resources Available
Laurent Durocher Account Books

– Laurent Durocher was an active citizen in the founding of Frenchtown, later to be known as Monroe, Michigan.  If your ancestor was an early pioneer in this area he may have done business with Laurent.  If the list provides a span of time, example 1818- Sept 1821, this shows that this person did business with Laurent during this time period. This is the only information available, but what it does for your research is that it proves that your ancestor was in this area at a particular time.
Databases
The following databases may require a password to access their information. All passwords are available in our Online Resources Brochure that can be found at any of our 16 branches. You can also call your local branch library for more information.
The Monroe County Library System Genealogy Collection is housed on the second floor of the Ellis Library and Reference Center.  Access to the floor is either by stairs or elevator.  The Reference Center opens at the same time as the Ellis Library but closes 15 minutes prior to the library. 
Questions about our collection, please call the Ellis Library & Reference Center or you may Ask A Librarian.
Events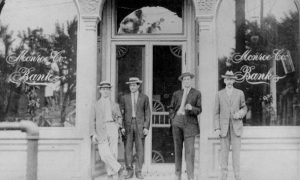 Check out genealogy clubs and programs going on at Monroe County Library System branches.