Genealogy Books Available For Research
The following lists of books are available for research and can be found at the Ellis Library & Reference Center Genealogy Collection. The titles of these books are followed by the call numbers for your convenience. Books in the Genealogy Collection cannot be checked out from the Library.
Surnames
Dictionary of English and Welsh Surnames : G929.4 Ba
English Surnames : G929.4 Ba
Surnames of Scotland : G929.4 Bl
Our Italian Surnames : G929.4 Fuc
Polish Surnames : G929.4 Hoffman
The Surnames of Ireland : G929.4 Macly
Dictionary of American Family Names : G929.4 Smi
Irish Family Names : G929.4 Kel
Irish Family Names : G929.4 O'La
Dictionary of German Names : G929.40943 Bahlow
Dictionary of Surnames : G929.42 Han
African Names : G929.4096 Stewart
Other Resources
Ships of Our Ancestors (Michael Anuta): G387.243 Anuta
In Search of Your British and Irish Roots (Baxter): G929.1 Ba
In Search of Your Canadian Roots (Baxter): G929.1 Bax
In Search of Your European Roots (Baxter): G929.1 Bax
Black Genealogy (Charles Blockson): G929.1 Blo
French Families of Detroit River Region 1701-1936 (Denissen): G929.1 Den
Ethnic Genealogy (Jessie Carny Smith): G929.1 Et
Researchers Guide to American Genealogy (Greenwood): G929.1 Greenwo
Scottish Roots (James): G929.1 Jam
Locating Your Immigrant Ancestory (Neagles): G929.1 Ne
The Source: A Guidebook of American Genealogy (Arlene Eakle): G929.1 Source
Dictionnaire Genealogique De Familles Canadiennes (Tanguay): G929.1 Tan
Finding Your Roots (Westin): G929.1 We
Our French-Canadian Ancestors (Thomas LaForest): G92910714 Leb
Polish Roots (Rosemary Chorzempa): G929.1072 Chorzem
Mayflower Families Through Five Generations Vol. 1-3 (Lucy Kellogg): G929.2 May
Germans to America Vol.1 (Glazier): G929.3 Ger
The Atlantic Bridge to Germany Vol. 1-8 (Hall): G929.3 Ha
Italians to America Vol. 1-4 (Glazier): G929.3 Italian
Morton Allen Directory of European Passenger Steamship Arrivals: G929.3 Mor
Directory of Scottish Settlers in North America (David Dobson): G929.30899 Dob
Wuerttemberg Emigration Index (Trudy Schenk): G929.30943 Schenk
Index to 1871 Census of Ontario: G929.3713 Ind
People of Ontario, 1600-1900 Vol. 1-3 (Noel M. Elliot): G929.3713 Peo
Dictionnaire Genealogique Des Familles Du Quebec (Jette): G929.3714 Je
The Famine Immigrants Vol. 1-7 (Glazier): G929.373 Fam
Passenger and Immigration List Index: G929.373 Pa
Tennessee County Maps & Kentucky County Maps by C.J.Puetz
GEN 912.768
A current atlas of county maps for the states of Tennessee and Kentucky.  Maps identify cities, towns, roads, some geographic features but no township divisions.
Family Archives Passenger & Immigration Lists Index 1538-1940
GEN-CD 929.373 Passeng
This CD lists of 2.75 million individuals who arrived in American ports between 1538 and 1940.  Information was collected from naturalization records, church records, family and local histories, and land grants.
Kentucky 1890 Veterans Census Index
GEN 929.3769 Kentuck
This particular reference provides a listing of soldiers and their widows for the 1890 Special Census schedule of Union veterans or their spouses.  However some Confederate veterans/spouses probably are included also.
Kentuckians in Missouri by Stuart Sprague
GEN 929.3778 Sprague
This reference is intended to assist genealogists looking for Missourians of Kentucky descent.  This compilation of over 4,000 persons traces records for individuals born in Kentucky and later migrated to Missouri via OH, IN, & IL.
Ireland:  1841/1851 Census Abstracts (Northern Ireland) by Josephine Masterson
GEN 929.3416 Masters
Since pre-1901 Irish censuses were destroyed by fire in 1922, this reference provides a partial reconstruction of the 1841/1851 censuses of Northern Ireland. Only a fraction of the population is identified (approximately 23,000) but it is still nonetheless an important genealogical tool.
Passenger Ships Arriving in New York Harbor 1820-1850 ed. by Bradley Steuart
GEN 929.37471 Passing
Any researcher familiar with the Norton Allan directory will appreciate this addition to the passenger ship reference collection.  Information includes:  day of arrival, name of ship, route, nationality and National Archive roll and manifest number.
The Hidden Half of the Family:  A Sourcebook for Women's Genealogy by Christina Kassabian Schaefer
GEN 929.1 Schaef
Maternal lines in genealogical research are more challenging than their male counterparts.   Attribute this to maiden names and lack thereof.  This book gives researchers clues on how to recover these missing identities.
Virginia Taxpayers 1782-1787 by Augusta Fothergill
GEN 929.3755 Fotherg
This publication provides researchers information on approximately 34,000 Virginia residents omitted from the 1790 Federal Census of Virginia.
Heraldry
Burke's peerage, Baronetage, and Knightage : G929.7 Bu
Debrett's Peerage and Baronetage : G929.7 Deb
The Ancestor : G929.72 Anc
Fairbairn's Book of Crests : G929.8 Fa
Armorial Families : G929.8 Fox
Burke's General Armory : G929.8 Bu
New extinct Peerage : G929.72 Pi
Military
Captains of the Contienental Navy : G973.35 McM
Historical Register of Officers of the Continental Army : G973.34 He
Naval Officers of the American Revolution : G973.36 Cla
Mariners of the American Revolution : G973.36 Kam
Index to War of 1812 Pension Files : G973.52 Whi
List of Pensioners on the Roll 1883 : G973.74 Uni
Honored Dead: Union Casualties at Gettysburg : G973.76 Bus
Loyalists of the American Revolution : G973.314 Sab
Index of Revolutionary War Pension Applications : G973.3 Nat
Pension Roll of 1835 : G973.34 Pension
Official Army Register 1861-1865 : G923.5 Uni
List of Officers of Army of U.S. from 1779 to 1900 : G923.5 Po
Historical Register and Dictionary of U.S. Army : G929.5 He
Index to Indian Wars Pension Files 1892-1926 : G355.1151 Ind
Interested in Genealogy?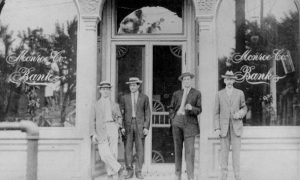 Check out genealogy clubs and programs going on at Monroe County Library System branches.