History of the Monroe County Library System
The Monroe County Library System has served the residents of Monroe County since 1934, providing information, recreation and education for all ages.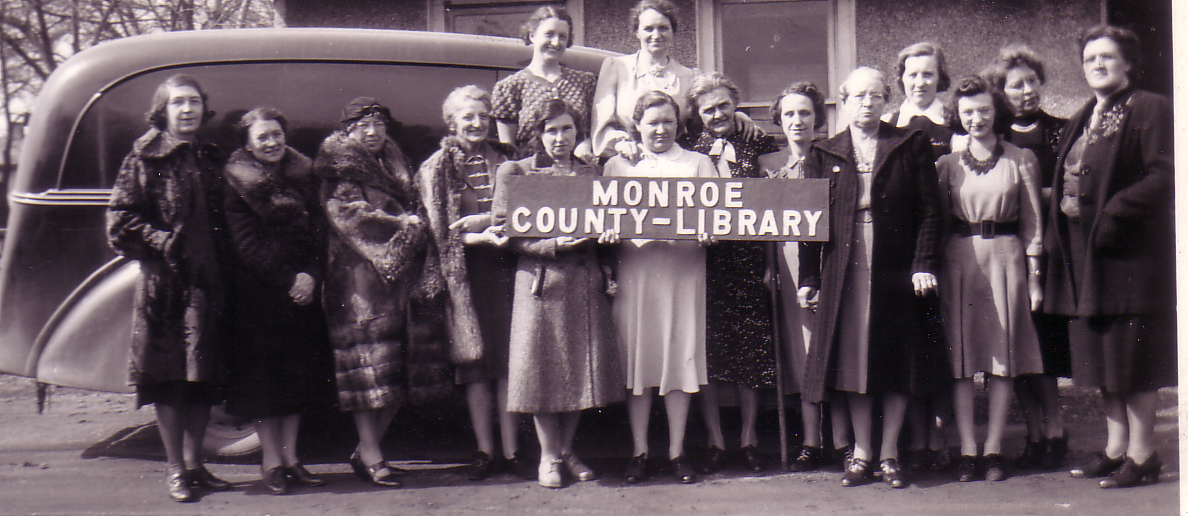 The System consists of 16 branch libraries located throughout the county stretching from north to south, east to west and all points in between. The library buildings are owned by the local units of government which also provide utilities and furnishings for the buildings. The Monroe County Library System provides materials including books, magazines, audiobooks, CDs and DVDs, digital materials, computers and other forms of information in each branch. The staff is also provided by the Library System and includes reference and children's librarians in strategic geographic locations.
The only buildings owned by the Library are the Ellis Library & Reference Center and the Mary K. Daume Library Service Center, which is the headquarters for the administrative staff and the system's distribution facility.
A dedicated staff of 57 full time employees supported by numerous part time employees provides service to the public and support services behind the scenes.
A five member Board of Trustees is appointed by the County Board of Commissioners and is responsible for setting policy for the System. Each Trustee is appointed for a period of four years with the option of serving again upon re-appointment by the County Commissioners.
The Monroe County Library System is a member of the Woodlands Library Cooperative and serves as the fiscal agent for the coop. Woodlands is a cooperative of libraries along the southern tier of Michigan sharing resources to better serve the residents of southern Michigan.
MCLS also participates in the MICard. MICard is a voluntary library card program coordinated by the Suburban Library Cooperative that allows cardholders to borrow print materials from participating Michigan public and academic libraries.
The Monroe County Library System also provides information through programs at all branches for all ages. Summer reading programs and storytimes for children as well as other events throughout the year encourage children to read. Adult interests are served by speakers and cultural events, and young adults are welcomed to take advantage of special events planned for their age group.
While the method of service delivery has undergone tremendous changes since 1934, the goal has remained the same: to provide the best possible service to all residents of Monroe County to meet their information, recreation and education needs.