About Art for Loan
The Monroe County Library System's Art for Loan is a collection of original art by area artists and is housed mainly at the Bedford Branch and Ellis Library & Reference Center.
The Art for Loan pieces located at the Bedford Branch Library have been purchased by the Bedford Community Arts Council at the annual Arts for Our Future Show.  This show was originally funded by a grant from the Michigan Council for the Arts.
The Ellis Library & Reference Center collection of Art for Loan is a continually growing collection.  The collection was started as a way to enhance community awareness of the arts and give encouragement to the artistic community in Monroe County.  Much of the collection has been purchased over the years through the Monroe City-County Annual Juried Art Show, while other pieces were donated.
Borrowing Art
The art may be borrowed to display in your home for 3 months with two automatic renewals. Contact the Bedford Branch Library or Ellis Library & Reference Center with questions about the collection.
Enjoy the Collection Online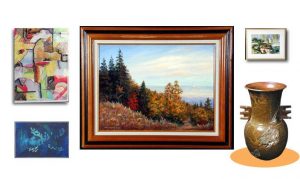 Preview the collection from the comfort of home.