Text Message Notifications
The Monroe County Library System now gives patrons the option to receive text message notifications (SMS Alerts) regarding their library account delivered to their cell phone. Patrons may opt to receive text notifications by following the steps below. Text messages will not replace email notifications concerning a patron account, however patrons may choose to discontinue staff phone calls by contacting their local branch.
One account may be registered per cell phone. Text message notifications can be cancelled at any time.
Alerts About Your Account
Patrons who opt in for text message notifications will receive three different kinds of alert messages:
Hold Pick-up Alerts Message – Your hold is ready to pick up at your local branch library. Please stop by and check it out within 7 business days.
Courtesy Alerts Message – Your material is due back in 2 days. Please renew your item(s) by texting 35143 Renew/Renew all or return item(s) to any MCLS branch library. Thank you.
Overdue Item Alerts Message – Your library material is overdue. Please renew your item(s) by texting 35143 Renew/Renew all or return item(s) to any MCLS branch library. Thank You.
Please note: Messages are delivered on a per item basis. This means if you have 3 items available to pick up, you will receive 3 individual text messages. Standard message charges may apply. Please check your mobile policy with your cell phone carrier.
Click to read more about SMS Terms and Conditions.
Getting Started
1. Log in to your library account.
2. In your Patron Record, select Modify Personal Info.
3. Under Mobile Settings, enter in your mobile phone number and check the Opt In box.

4. At the bottom of the page, click Submit.
Verify Opt In
All Monroe County Library System Alert services are originated from short codes 82453 or 35143. You will never receive any content from any other source.  Shortly after opting in, you will receive a message asking you to reply, and your subscription is complete.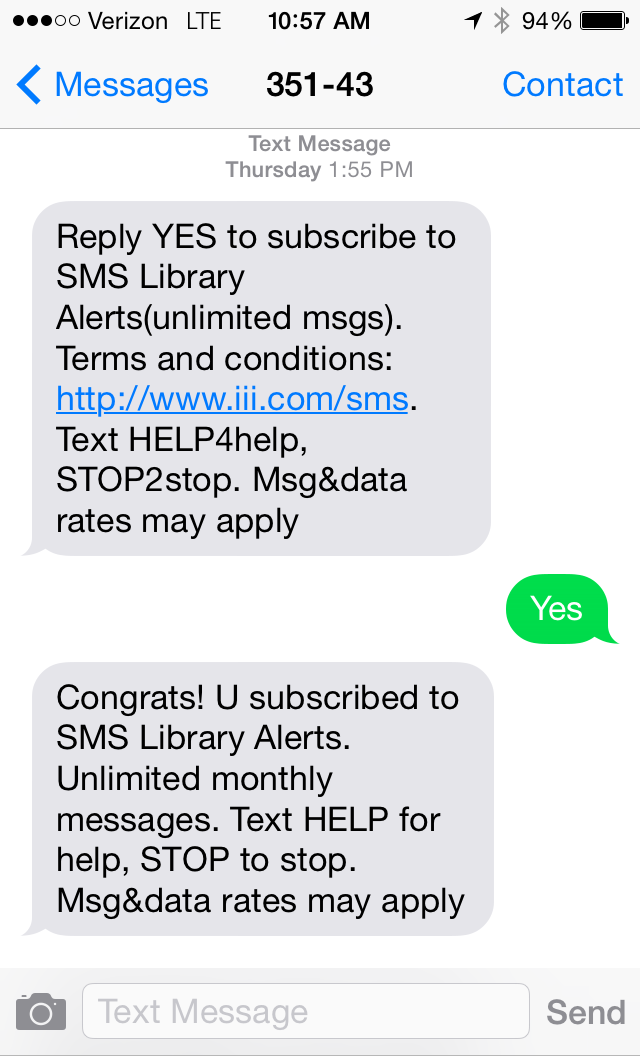 Opting Out
You can choose to opt out of SMS Alerts at any time. To opt out from Monroe County Library System SMS Alerts, send a text message with the word STOP, STOP ALL, END, QUIT, CANCEL or UNSUBSCRIBE to 82453 or 35143 from your mobile phone and we will unsubscribe you from our service. You will not receive any additional text messages via your mobile phone.