Keep On Reading, Reaching, & Imagining
In honor of Korri and her family, the bookmobile will be named K.O.R.R.I, encouraging children and patrons everywhere to Keep On Reading, Reaching, & Imagining.  
The bookmobile has the capacity to bring 1,800 books to the most vulnerable populations in the community.  There are approximately 150,000 people living in Monroe County and more than 30,000 of those residents are children.  Transportation issues will no longer limit a family's access to Library resources.
Onboard technology will allow patrons to utilize the Library's extensive digital resources.  Options include downloadable content, access to databases and reliable research, and training opportunities. 
The bookmobile will also expand the Library's outreach capabilities.  The vehicle will be available for special literacy programs at schools and daycare centers.  It will also participate in a wide variety of community events that will increase awareness of Library services throughout Monroe County.
History of the Bookmobile
The first bookmobile began serving Monroe County in 1949. For decades children eagerly awaited their visits to this mobile library, until budgetary constraints ended the service in 1998.
In May 2018, a generous $100,000 bequest was made to the Monroe County Library System in memory of former Library employee Korri Lake. This donation from Korri Lake's family became the launching point for a new MCLS bookmobile. The goal of the bookmobile is to increase library access to the community while promoting literacy and a life-long love of reading. While the bookmobile will serve the entire community, considerable focus will be placed on children and early literacy.

The goal of raising a total of $200,000 for the bookmobile was met in less than 11 months thanks to widespread support from the community. More than 100 individuals and organizations made donations to the bookmobile. The funds were used to the purchase of the vehicle ($165,000), fill the shelves with books in a variety of formats ($30,000), and provide technology ($5,000). The Library is committed to absorb all the additional costs associated with staffing and maintaining the bookmobile.
Thanks to this overwhelming support of the community, the Bookmobile was purchased and premiered in its first public event on April 10, 2019 and the Ellis Library & Reference Center.
If you are interested in contributing to this project, please contact Barbra Krueger, Marketing & Community Outreach, at the Mary K. Daume Service Center at (734) 241-5770.
Community Partners
Our thanks go to community partners who have made significant donations to making the Bookmobile a reality. The Library greatly appreciates their support and commitment to enriching Monroe County!
Foundation Partners at $20,000 or More
The La-Z-Boy Foundation became the Library's first major contributor with a generous donation of $25,000
Community Foundation of Monroe County – $25,000
Promedica Monroe Regional Hospital – $20,000
Best Seller – $2,000 Donation
Dr. John and Sheri Kalenkiewicz
Helen Patrisso
Friends of the Bedford Library
Friends of the Monroe County Library System
Page Turner – $1,000 Donation
Geek Guidance
Great Lakes Vision Care & Pinnacle Eye Group
Friends of the Maybee Library
Edward Jones
Michigan Association of Retired School Personnel
Bookmark – $500 Donation
Friends of the Summerfield-Petersburg Branch Library
Friends of the Dundee Branch Library
Friends of the Ida Branch Library
Cross Heating and Cooling, Inc.
Williams Insurance Agency
The Bellaire Family
Inverness Community
Sewer and Water Specialist
Friends of the South Rockwood Library
Friends of the Frenchtown Libraries
Monroe Bank & Trust
Altrusa International Foundation of Monroe
Lisa Haver Wains Insurance Agency
Judge Michael Brown
Maria McMullin DDS
Friendly Ford Inc.
Friends of the Dorsch Memorial Branch Library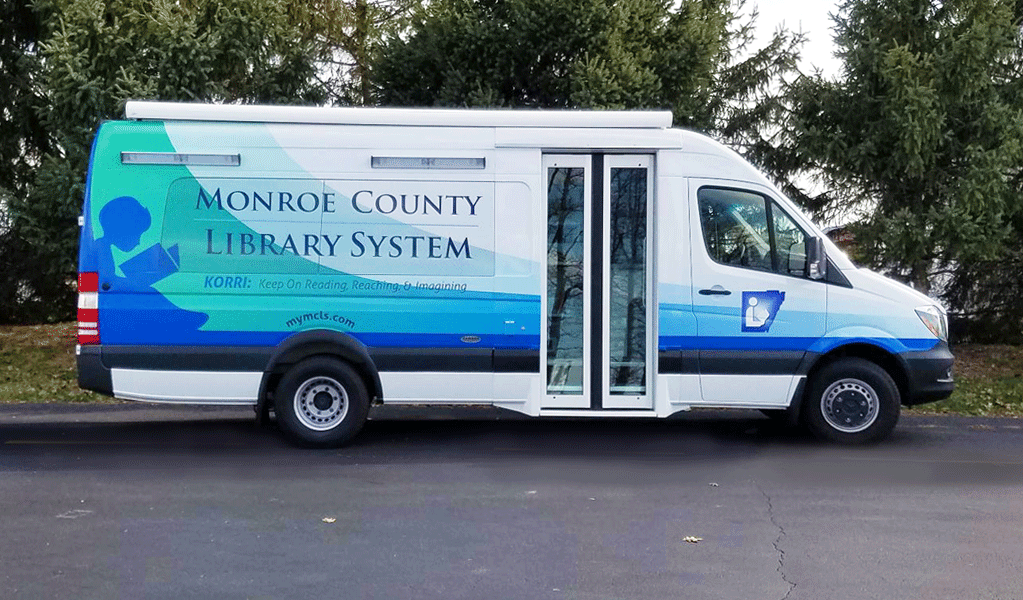 In Honored Memory of Korri Lake
Korri Lake (pictured below, left) was a generous, caring soul who loved children and reading. In honor of Korri and her family, the bookmobile is named K.O.R.R.I, encouraging children and patrons everywhere to Keep On Reading, Reaching, & Imagining.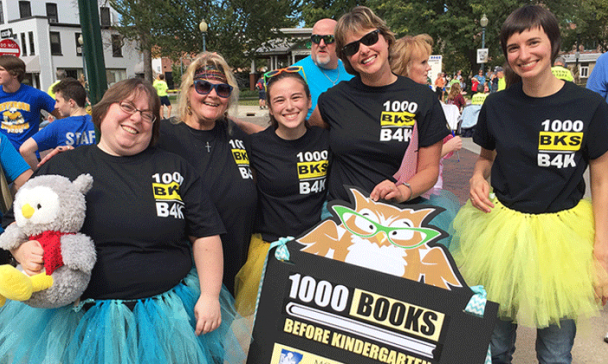 Special Thanks to Our Sponsors
Our thanks go to our many community partners and contributors who helped make the Bookmobile a reality. 
Bookmobile Events